Artisanal production, without compromises
On the thread of quality
Production that combines technology and craftsmanship: even when it comes to large numbers the utmost attention is paid to the smallest details. From the spool to the finished product, the leitmotif that runs through every stage of our production is quality.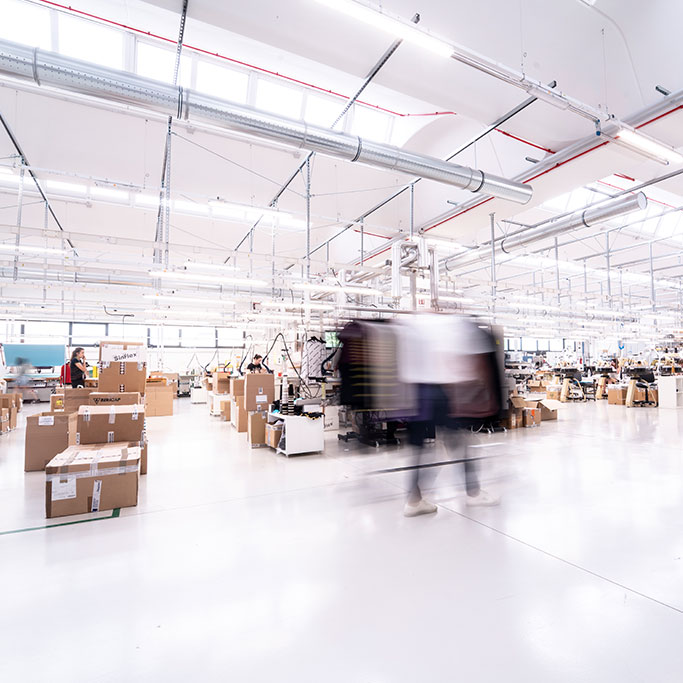 The production chain
For production we also rely on a network of local artisanal workshops, each with their own expertise in the creation of the garment, such as knitting, making up, ironing and all the necessary processes – a choice that allows us to offer greater flexibility in delivery times and matchless quality at every stage of the production process.

With regard to quality, the garments are brought back to the knitwear factory after each process carried out by external workers. In this way we check that they comply with the equality standards in force at all stages of production. Monitoring does not finish there since our customers can subject us to external spot checks at any time.
Machinery
Technology and innovation
Our machinery includes specific precision equipment for each stage of production. The digitalized modelling department uses sophisticated Shima Seiki software, which allows complete integration with the programming area. In this way we can guarantee sophisticated processes and design innovative solutions for each project.
And then...
Machines for making up hand knitted knitwear, in knitting/fabric and knitting/leather, for digital panel printing, embroidery, raising, fulling and finishing.